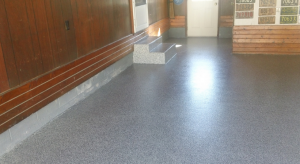 Polished concrete floors are now highly used by residential and commercial property owners. This is due to the fact that polished floors can last longer and are less expensive. Additionally, they are easy to maintain. It is also easy to make a concrete match with any interior decoration. Besides all that, it is extremely eco-friendly as shown below,
Energy optimization
Polished concrete In Kansas City can efficiently decrease the need for heating and cooling inside the building. It has the capability of absorbing heat from the sun during the day and release them back at nightfall. Also, it has a light reflectivity of about 85%, so that you do not have to install many lighting systems within the room. When the concrete floors are placed away from the direct sunlight, it would remain cool, thereby reducing the need for air conditioning.
This clearly shows that concrete polishing in Kansas City would allow you to save more on utility bills.
Durability
Concrete is one of the major long-lasting materials made by mankind. With proper maintenance, it can last a lifetime. Any other flooring options like carpets, tiles and wood would require regular replacement, resulting in depletion of natural resources and junk removal issues.
Ease of maintenance
You can maintain the concrete floors without much effort and by making use of eco-friendly items. They do not require harsh chemical products for cleaning and therefore the amount of pollutants released into the earth is decreased.
Promotion of health
Adhesives are not used in the finishing process of concrete polishing at Kansas City. Also, the hardeners and densifiers that are included contain minimal volatile organic compounds and no solvents. Concrete doesn't collect dust and doesn't encourage mold growth unlike carpet.
Thus, concrete polishing is more eco-friendly than any other flooring types.