FAQs
Kansas City Concrete Solutions – Frequently Asked Questions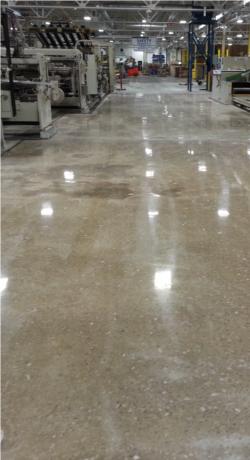 1) Why does concrete crack?
Usually concrete cracks due to improper ground preparation prior to the concrete being poured. It could also be caused by the installer not using enough reinforcement steel. Weather conditions can also cause cracking – such as extreme cold, rain, and heat. Sometimes just simple ground movement after it has been poured can crack the concrete. I always tell my customers that you can pretty much guarantee your concrete is going to crack at some point after it's been poured.
2) Which is better for a basement floor- polishing or epoxy?
Polishing. First, the polishing gives a nice warm look to the floor and allows the concrete to breathe. When you put a coating on top (like an epoxy) you seal the concrete. If there is any moisture in the concrete the coating traps it inside, causing it to come up and bubble the coating.
3) Which is better for a garage floor- polishing or epoxy?
An epoxy system is better for a garage floor because it is easier to clean and maintain. The coating allows for stain resistance, and the use of a quart sand broadcast is great to reduce slippage. This is also a great finish for commercial kitchens- reducing the risk of employee slippage and injury.
4) How do I care for a polished floor?
We would discuss specific care techniques during the process. I always recommend a cleaning process and will provide a sample of the cleaning chemical needed to clean the floor. The typical cleaning process includes mop and water or a light detergent provided by Ameripolish that can be added to your water as you mop. Cleaning can be done as needed.
5) Can I damage an epoxy floor?
Yes, it can be scratched. This is one reason we don't recommend epoxy for internal home floors- a polished floor looks much more elegant and is more resistant to scratching (think dogs!). An epoxy floor can't be stained and is easy to care for. Driving your car into the garage is not going to damage your floor.
6) Can you put designs in my floor?
Yes, we can do custom stencils based on your preference for a design. With an epoxy, you can pick out colors and we can match for coloring. With a polished, you have multiple set colors you can choose from based on your preference. With polished floors, the relationship between the color and the concrete will determine the amount of coloring and patterning effect takes place.