Epoxy Flooring – Combining Style with Durability!
A clean and inviting place is one that is easy to maintain and clean. If ease of use and durability is what you are looking for in flooring, look no further than Concrete Solutions! We're your epoxy flooring experts in the Kansas City area.
What is Epoxy Flooring?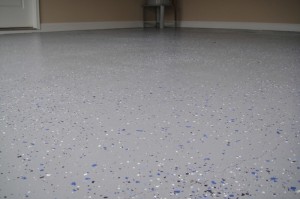 Resins and hardeners when mixed together, turn into a thick plastic like substance called epoxy. This can be applied as a viable option to conventional flooring options like marble, wood or ceramic tiles. They're extremely resistance to degradation and weather and ideal for use in commercial or industrial environments as flooring.
You can either opt to apply a coating of epoxy or go for a complete epoxy flooring. Epoxy that is less than 2mm is said to be known as an epoxy coating. You can either utilize it for the latter or the former depending on the resistance required.
For instance, self dispersing epoxy floors are the most durable and used in places where surfaces have to be tough and need to withstand heavy traffic. On the other hand, graveled epoxy floors are used for decorative purposes such as in hospitals, hotel lobbies etc. and have an excellent anti-slip properties.
Epoxy Flooring Advantages
Epoxy flooring is Easy to Clean and Maintain: Epoxy floor coatings are easy to maintain. Other floors tend to hold dust because the surface keeps on eroding. But epoxy is sealed tightly leaving little chance for eroding. All you need to do is to use a dry mop and the floor is shining!
No Fear of Mold and Mildew: Mold and mildew are a common problem in industrial floors and garages, especially when it's real humid. Epoxy is resistant to mold, therefore health issues such as asthma or allergies can be kept at bay.
Versatile: You can come up with a wide variety of design ideas with epoxy flooring. These are especially useful for offices and industrial surfaces where a company logo and other patterns can be etched easily.
Easy to Apply: When applied for the first time, it can take time to install epoxy because the tiny bumps and holes have to be evened out. But once it is installed, coating it the second time is quick and effortless. All it takes is a single coat and the floor is ready for use.
Some of our our Polished Concrete work
Why Us?
We have more than 10 years of experience and specialists in concrete polishing and epoxy flooring for residential and industrial use. We use the finest quality products including military grade materials and resins. Unlike others, we're not a fly-by-night company but a real company with a real address.
Trust us to save you Time, Money and Energy on your Epoxy Flooring need!