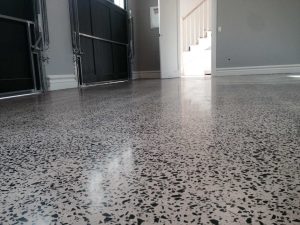 Garage floor coating is not just ideal for keeping things look clean, nice and fresh, but also to protect your floor. There's a reason behind using concrete for floors in basements and garages, which is its high durability. But that doesn't make it indestructible. This is where concrete coating in Kansas City is useful. Here are 5 benefits you need to know:
Thicker coatings can cover imperfections such as spider cracks and pitting. Garage floor coating also has anti-dusting properties, hence your storage items, car and other tools remain protected from it.
Garage floor concrete coating is resistant to moisture. This makes it easy to clean the floor that collects icy brines and road salts collected during winter. All it requires is a mild soap and water for cleaning.
Garage floor coating is also chemical and stain resistant, meaning brake fluids, gasoline, anti-freeze and other chemicals can be easily removed with a few simple wipes. Floor coating can also transform your dull-looking garage into a bright and beautiful space.
Concrete coating makes way for greater durability. You don't have to worry about your tools falling on the floor, as coating provides high impact resistance.
If you are staging your home for selling, you could invest in concrete coating to make it look attractive than ever. You don't have to spend a fortune in doing so, and can attract your potential homebuyers with a fine-looking garage.
These are some of the advantages of concrete coating for garage floors. Concrete coating is imperative for it adds extra layer of protection from constant wear and tear.